Dear Friends,
We have missed you, and we are so excited to be inviting you to our first event of 2021, the return of The 24 Hour Plays: Lancaster on February 20! Although we can't be together in person, we're exploring new ways of connecting this year, and we're writing to ask for your help.
As many of you know, Creative Works began using a Pay What You Decide (PWYD) ticketing model in 2019, continuing our efforts to remove barriers to experiencing our events. You simply reserve your no-cost ticket in advance and pay whatever you'd like after the show, with no minimums and no suggested donation amounts. 
Our production costs remain the same — or, in the case of The 24 Hour Plays: Lancaster this year, even higher as we venture into the virtual realm — and if you are so inclined, we'd be grateful if you'd consider sponsoring the event in advance. Any support is appreciated, but we've included some ideas below for how you might be able to help.
Thanks so much for considering, and no matter what, we hope you will sign up to watch the plays! All money collected will be used to cover production costs, support artists, and seed future projects. Contributions made to Creative Works of Lancaster are tax-deductible under section 501(c)(3) of the Internal Revenue Service code.
With appreciation,
The Creative Works of Lancaster Board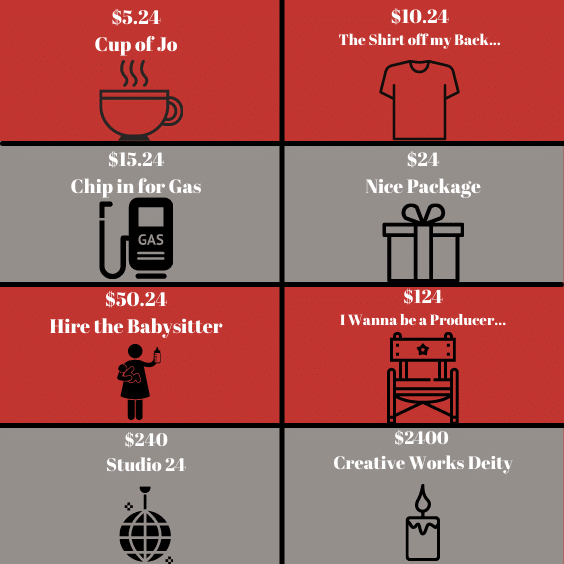 $5.24
Cup of Jo
Buy an artist a coffee…or latte…or London Fog!
We're partnering with Mean Cup to keep our participants caffeinated with their sweet elixir. Our writers will be especially grateful at 3 AM working on their 4th draft and wondering if they can wrap up their play in the next two pages…   
$10.24
The shirt off my back…
Clothe an artist…really!
We're working with our friends at Steadfast Screen Printing to get BRAND NEW Creative Works shirts to all our artists this year. Buy an artist a cool new shirt so they can strut their stuff in style. (And before you ask – don't worry shirts will be available for public purchase SOON)
$15.24
Chip in for gas
Assist with gas money or postage. 
Our board members and volunteers will be driving all over the region with deliveries for artists, ordering supplies, and dropping things in the mail leading up to the event!
$24
Nice Package 
Provide a care package for a participating artist. 
Rumor has it every writer, director, and actor will have some cool swag and goodies coming their way to help get through a busy 24 hours! Also it's $24 for 24 hours – we double checked our math and that's a buck an hour!
$50.24
Hire the babysitter
Help offset the cost of the creation of marketing and engagement materials. Every audience member who registers for a ticket will receive some custom activities for a fun night in, including stuff for kids (or the young at heart)! 
$124
I wanna be a Producer…
Cover the licensing rights for The 24 Hour Plays. 
Okay, they actually cost $185, but that didn't fit the number theme…
$240
Studio 24
Sponsor the virtual cast and crew party. 
While we can't be in the same room, Zoetropolis and Lancaster Distilleries are helping us bring the celebration to all our artists! We'll think of you while dancing to our Gloria Gaynor albums after the show.
$2400
Creative Works Deity
Help underwrite our equipment and streaming costs! 
If you're feeling extra generous, this amount would go a long way towards covering some of the costs associated with ensuring expert virtual production through Shumaker PDT! We'll light a candle in your honor too.